Owner & Fitness Consultant
Josh Brown
Masters Degree in Exercise Science
Josh grew up in a small town in rural Wisconsin where he participated in successful sports programs, including football, baseball and track. He also participated in football and baseball at the collegiate level. He studied Sports Science at Loras College in Dubuque, Iowa earning a Bachelor's Degree. Josh continued his studies at UW-Lacrosse earning a Master's Degree in Exercise Science.
Josh has been a personal trainer and owner of Impact Fitness Studio in the Milwaukee area for the past 10 years. He and his wife Jody live in Milwaukee and have two boys Landon and Eli. He brings his knowledge and expertise in weight loss, living a healthy lifestyle  and performance coaching to the Oak Creek area. Josh initially meets with you, discusses your fitness goals, evaluates your fitness level and plans workout sessions to meet your individual needs. As a team, Josh will ensure you make progress to reach your desired outcome.
Fitness Consultant
Hayden Krueger
Bachelors Degree in Kinesiology/Exercise Science
Hayden graduated from UW-Oshkosh where she received her Bachelors of Science degree in Kinesiology with an emphasis in Exercise & Fitness. She played a mean centerfield all four years and was the team captain for two years for the softball team at UWO. Hayden found her passion for fitness at a fairly young age when she got involved with sports. She has trained a broad spectrum of clients from athletes to weekend warriors to those looking to lose weight. When she's not training she likes to play softball, watch movies, pet all the dogs and do fun outdoor activities.
Fitness Consultant
Liz Moore
National Academy of Sports Medicine Certified Personal Trainer & Pre and Post Natal Fitness Certified.
As a Wisconsin Native, Sports/Fitness have always been a huge part of Liz's life. She earned a division I athletic scholarship to the University of Texas at El Paso and was coached by some of the best NCAA trainers in the country. After having her first child she decided to make fitness a career.
Liz has been a NASM Certified Personal Trainer/Fitness Instructor/Fitness Blogger for several years. She is a certified pre and post natal instructor through Fit4Mom, as well.
Liz specializes in training woman and moms, but also loves to train men and athletes as well! She has two children and knows what it's like to balance work, kids, family and fitness. Balance is the key, and Liz wants to help you find YOUR BALANCE. She wants to inspire others to make fitness a life-style that is lived forever – not just a short term fix.
CLASS SPECIALTIES: Triathlon Training, Circuit Training, Boot Camps, HIIT, Pre and Post Natal Fitness, & High School/College Level Sports Training
Fitness Consultant
Justin Nolen
Master of Science in Exercise Physiology- Strength & Conditioning; Carroll University
Bachelor of Science in Exercise Science; Illinois State University
Certified Strength and Conditioning Specialist; NSCA
Certified Personal Trainer; NSCA
Justin grew up in a small town in northern Illinois where he played football, basketball, and baseball.  His passion for athletic performance directed him to Illinois State University, where he received a Bachelor's degree in Exercise Science. Justin's experiences include an internship researching high-performance athletes in Tampa, FL, as well as training general population clientele at a health club in northern Illinois.
Following that, Justin continued his education at Carroll University, receiving a Master's degree in Exercise Physiology with an emphasis in Strength & Conditioning. There he worked with the Carroll Football, Women's Basketball, and Swimming & Diving teams.
Justin now lives in Milwaukee and enjoys watching and talking sports with his family, and listening to country music.
Fitness Consultant
Jessica Mlachnik
Bachelor's Degree in Sport Management, St. Ambrose University
Growing up, Jessica, was always involved with sports and other activities it was nearly impossible to get her to sit still.  Her love to be active and participate in sports only grew stronger as she got older it had a lot to do with her passion and drive, also her very large family who were also involved with numerous sports and activities.  In high school she played as many sports as she could, whether it was for the school or for club teams outside of the school. That love she had for competition carried over into college. Jessica attended St. Ambrose University in Davenport Iowa where she competed on both the Women's Basketball and Soccer team all while completing her Bachelor's Degree in Sport Management.  Throughout her college years she coached numerous teams and helped out with a few speed and strength programs. During her summers she would come back home to the City of Muskego where she helped coached girls soccer and basketball at the high school level. She would also coach her own AAU basketball teams for both boys and girls at a few different age levels. The speed and strength program she helped out with consisted of high school aged student athletes from all levels and all different sports.  Meanwhile Jess has great experience working with student athletes at all ages, she also has experience working with people of all ages and all abilities with fitness and sports goals. 
In her free time she is still active with sports, she participates in coed soccer, volleyball, and softball leagues in her free time, as well as still coaching on the side.  She also likes to relax and hang out with her family and friends any chance she can.
Read Testimonials
What Our Clients Say
"My husband and I started training with Josh six months ago because we wanted to get healthy and fit but were intimidated to go to a gym because we didn't know how to work out and were intimidated by other "gym rats". We enjoy the one on one sessions in his private gym and Josh's expertise is phenomenal, creating workouts tailored for your goals that are challenging and always changing. My husband and I would recommend Josh as he would be an asset for anyone looking to improve their health regardless of their current fitness level. He is a great trainer who cares about his clients."
"I started with Josh and Impact Fitness in March of 2010. Previous to Josh I had another personal trainer for 1-1/2 yrs. Josh has done more for me in the last five months than I thought anyone could. He continuously challenges me and pushes me further than I ever thought I could go. He has more confidence in my abilities than I do and he makes sure I prove it to myself in every work out. Since I have been working with Josh, I am much more toned and fit. I see Josh for one hour two times a week, I wish I could do more. I am amazed on how far I have come with Josh. THANK YOU JOSH! You really know your stuff!"
Having an office job and a high alcohol tolerance (thanks UW) led me down a pretty sad path.  But now I'm happy to be on this beautiful fitness journey.  Thanks to Impact Fitness Studio for kicking my butt into gear.
Josh is amazing ! Thanks to his training I was able to reach my initial fitness goals. He continues to push me with every session and the amazing results keep on coming.
personal training
Choose Your Program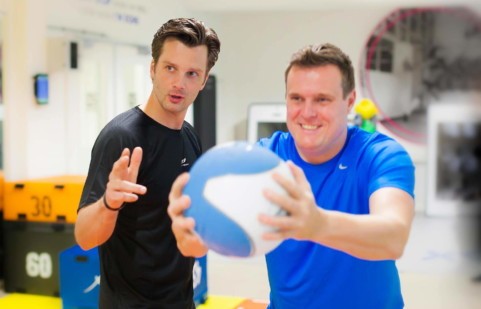 Each personal training session leverages our private studio to provide a unique, personal, one-on-one fitness experience with our Personal Fitness Consultants. Our personal trainers identify your specific fitness needs and create a plan for you to efficiently and effectively get maximum results in minimum time.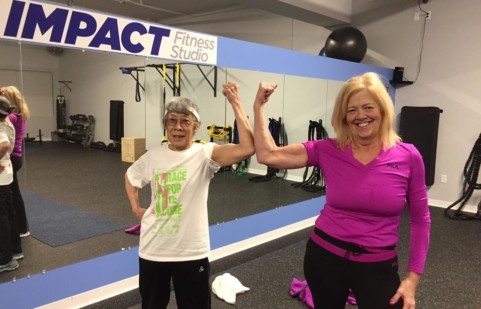 Designed for those who enjoy the camaraderie of a group environment, but still desire a personalize program designed to their body's specific needs and goals. Who also understand the importance of maximizing each exercise with proper form and technique with closer instruction from our Fitness Consultants, our semi-private personal training groups feature four or fewer participants for the best in group instruction.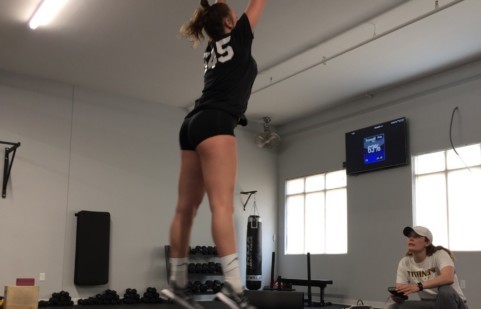 Impact Fitness specializes in individualized strength and conditioning programs that are tailored to your unique needs, sport, goals, and the findings of our proprietary 1-on-1 assessment. We build the blueprint to maximizing your body's performance through fusion of expert training, science, and technology.
Attention Oak Creek Surrounding Areas!
WE ARE LOOKING FOR 10 MEN & WOMEN WHO WANT TO TRANSFORM THEIR HEALTH AND FITNESS OVER THE NEXT 12 WEEKS.
For a Limited Time (Value $97)
Schedule Your Free Sports Performance Assessment
Our Athlete's start with our proprietary and detailed performance assessment . The evaluation includes a mobility/flexibility assessment, physical performance measurements, and a detailed biomechanical analysis and functional movement screen. Following the initial evaluation, a custom training program is designed for each athlete to maximize their strengths, address their weaknesses, proactively prevent injury and achieve performance benchmarks specific to their sport.
@impactfitnessstudio
Follow Instagram